Here's a question for you. Eggnog … "Hooray!!" or "No Way!" Where do you stand? There seems to be a definitely line in the sand when in comes to this beverage. You either love it or you hate it. Unless you're like me. I'm kind of on the fence. I am firmly stationed in the "No Way!" camp when it comes to drinking eggnog. It's not that I dislike the taste. For me, it's a problem with the consistency. It's just too thick. Blegh!
However, that being said, I have found a way to enjoy eggnog. I love using it in baked goods! Cookies? Oh yeah. French Toast? Yes, please! Even oatmeal. So good! In my experience, eggnog lends a wonderful flavor to a variety of baked goods and does not gross me out the way trying to drink it does. So if you're on the "No Way!" of the eggnog debate, perhaps if you try it a different way you'll be a convert too. How about eggnog in a cake? Uh hmmm… it's amazing. Trust me here.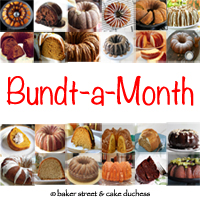 This month for BundtaMonth the theme is to bake a boozy bundt. Now that's a theme I can get behind. I thought about my success in using eggnog in other recipes but I'd had yet to try baking a cake. This eggnog bundt cake is beyond moist. It's lightly spiced with cinnamon and nutmeg then glazed with a bourbon spiked glaze. All the flavor of the holiday season baked into a lovely bundt cake and it's sure to please even the people who loathe eggnog.
If you'd like to join in, pick your poison and come along for the ride. Bake a boozy bundt! Then just add your link below so we can all see your creation. In the meantime, be sure to check out what all the other hostesses baked up this month!
Enjoy!
~K
Araby Spice-Limoncello Bundt Cake with Limoncello Glaze
by Lora from
Cake Duchess
Bailey's and Buttershots Bundt Cake
by Karen from
In The Kitchen With KP
Banana Pineapple Bundt Cake with Coconut Rum Glaze
by Carrie from
Poet In The Pantry
Chocolate Bourbon Mini Bundt
by Holly from
A Baker's House
Chocolate Port Bundt Cake
by Paula from
Vintage Kitchen
Eggnog Rum Pound Cake
by Dorothy from
Shockingly Delicious
Madeira Pound Bundt Cake
by Renee from
Magnolia Days
Mint Chocolate Chip Bundt Cake with Creme de Menthe
by Laura from
The Spiced Life
Shirley Temple Bundt Cake
by Kim Beaulieu from
Cravings Of A Lunatic
Spiked Eggnog Bundt Cake with Bourbon Glaze
by Kate from
Food Babbles
Sweet Potato Bourbon Bundt
by Jennie from
The Messy Baker Blog
Long Island Iced TeaCake
by Deb from
Knitstamatic
Rum and Raisin Butter Bundt with Rum Honey Glaze
by Stacy from
Food Lust People Love
Tiramisu Bundt Cake with Kahlúa Mascarpone Glaze
by Anuradha from
Baker Street
Vanilla and Bourbon Cake
by Kate from
Diet Hood
Vanilla Mini Bundt Cakes with Kahlúa
by Alice from
Hip Foodie Mom
With a buzzing in the air and in our heads, we're swaying over to bake boozy bundts this month. Here's how you can join the party:
– Get inspired by your favorite cocktail, mocktail or just use your favorite liqueur and bake us a Bundt for Boozy December.
– Post it before December 31, 2012. – Use the #BundtAMonth hashtag in your title. (For ex: title should read #BundtAMonth: Chocolate Cinnamon Bundt) – Add your entry to the Linky tool below – Link back to both Lora and Anuradha's announcement posts.
One Year Ago: Chocolate Cranberry Brownie Muffins
Two Years Ago: Dutch Apple Pie
Spiked Eggnog Bundt Cake with Bourbon Glaze
A moist eggnog-infused cake lightly spiced with cinnamon and nutmeg then drizzled with a bourbon glaze
Ingredients
For The Cake:

3 cups all purpose flour
2 teaspoons baking powder
1 teaspoon salt
1/4 teaspoon nutmeg
1/2 teaspoon cinnamon
2 sticks unsalted butter, room temperature
2 cups sugar
1 1/4 cups eggnog
2 tablespoons bourbon
1 teaspoon vanilla
3 eggs, room temperature

For The Glaze:

1 cup confectioners' sugar
2 tablespoons eggnog
2 tablespoons bourbon
1/2 teaspoon vanilla
Instructions
Preheat oven to 350 degrees. Grease and lightly flour a bundt pan. Set aside.
In a medium bowl, sift together flour, baking powder, salt and spices. In a second medium bowl, mix eggnog, bourbon and vanilla.
In a large bowl, cream together the butter and sugar until light and fluffy. Add eggs one at a time, mixing just until incorporated.
Beggining and ending with the flour, add 1/3 flour into wet mixture, alternating with milk mixture.
Pour into bundt pan and bake until done a tester inserted in the center comes out clean, about 55-60 minutes.
Cool in the pan for 10 minutes then invert and remove from pan. Cool on a wire rack completely.
In a small bowl, combine the confectioners' sugar, eggnog, bourbon and vanilla. Spoon over the top of the cake, allowing it to drip down the sides.
Enjoy!
Notes
http://foodbabbles.com/spiked-eggnog-bundt-cake-with-bourbon-glaze-bundtamonth/
Copyright Food Babbles - www.foodbabbles.com