Guess what today is? Today is National Bundt Cake Day! Who knew? Not me, until about two weeks ago when the BundtaMonth crew mentioned it and said, "Hey, let's do double bundts this month. Who's in?" Given my newfound love of bundts are all flavors and combinations, I was totally in. Shortly thereafter, I remembered that November 15th was also Improv Challenge reveal day. So what's a bunt-lovin' girl to do? Improvise, of course!
This month for Improv Challenge, our ingredients were sweet potatoes and honey. I immediately knew I could make this work. Although, I have a confession to make. I don't like sweet potatoes. I mean, I really don't like sweet potatoes. I truly want to! I keep trying them because I know they're good for me. I'm an Irish girl so it's practically in my blood to love white potatoes and that I do. I could eat any variety of white potato daily and not complain one bit. Heck, I could make just those potatoes my meal all in itself. But throw me a sweet potato and I'll really need to work to get it down. I'll eat them but I won't enjoy them very much.
But I've never tried sweet potatoes in a dessert before. I've always figured, I don't like them baked, mashed or as fries. I don't like them sprinkled with brown sugar and cinnamon. Why would I like them in dessert form? So, no I've never made or had sweet potato pie. After this bundt, I'm thinking that's about to change. I pleasantly found that I like sweet potatoes baked into a cake.
This sweet potato cake with brown sugar, cinnamon, a little nutmeg, allspice and apple cider is the way to go! Oh but then I stepped it up a notch with a cinnamon streusel topping that actually becomes the bottom. Now, what about that honey? One of the best things about a bundt cake is either dusting or glazing. I made a honey glaze for the top that was the perfect drizzle over the top. This cake is autumn perfection. It would be a welcome addition to any brunch or a little dessert after a nice family dinner. We really enjoyed this and I think you will too.
Enjoy!
~K
One Year Ago: Toffee Apple Bars
Two Years Ago: Banana Applesauce Cake with Banana Cream Cheese Icing
Cinnamon Crusted Sweet Potato Bundt Cake with Honey Glaze
Sweet potato bundt cake with a cinnamon streusel crust and drizzled with a honey glaze.
Ingredients
For Cake:

1 1/2 cups firmly packed dark brown sugar
1/3 cup unsalted butter, softened
2 large eggs
1 1/4 cup cooked sweet potato, mashed
1 teaspoon pure vanilla extract
2 3/4 cups all-purpose flour
3/4 cup milk
1/3 cup apple cider
1 tablespoon baking powder
1/2 teaspoon cinnamon
1/4 teaspoon nutmeg
1/8 teaspoon allspice
3/4 teaspoon salt

For Streusel:

2/3 cup firmly packed dark brown sugar
3/4 cup all-purpose flour
1 1/2 teaspoons ground cinnamon
4 Tablespoons unsalted butter, melted and cooled

For Glaze:

1 cup confectioners' sugar
2 tablespoons milk
2 tablespoons honey
Instructions
Preheat oven to 325 degrees. Thoroughly grease and flour a bundt pan and set aside.
In a small bowl, combine the brown sugar, flour and cinnamon. Drizzle over the melted butter and using a fork or your fingers, mix the ingredients until well blended and small crumbs form. Place in the refrigerator while you make the cake batter.
In a large bowl, cream together brown sugar, butter, and eggs until very light and fluffy using an electric mixer. Add sweet potato and vanilla and combine. Mix in flour, milk, apple cider, baking powder, cinnamon, nutmeg, allspice, and salt just until combined.
Pour the batter into the prepared bundt pan. Top with half the streusel and gently swirl into the batter. Add remaining streusel on top.
Bake in the center of the oven for 55-65, or until a skewer inserted in the center of the cake comes out clean.
Cool for 10 minutes in the pan. Invert and remove bundt pan. Cool completely on a wire rack.
In a small bowl, combine the confectioners' sugar, milk and honey. Drizzle over cooled cake.
Enjoy!
http://foodbabbles.com/cinnamon-crusted-sweet-potato-bundt/
Copyright Food Babbles - www.foodbabbles.com
Here are some other fabulous bundts to check out in celebration of National Bundt Cake Day!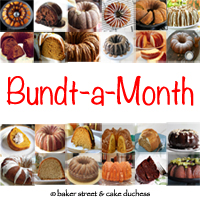 Chocolate Ganache Draped Banana Bundt Cake and Earl Grey Chocolate Bundt Cake by Laura | The Spiced Life
Chocolate Hazelnut Baby Bundt Cakes by Paula | Vintage Kitchen Notes
Coconut and Rum Bundt Cake for National Bundt Cake Day by Carrie | Poet In The Pantry
Cream Cheese Swirled Chocolate Bundt Cake by Anuradha | Baker Street
Tunnel of Fudge Bundt Cake with Hazelnuts by Alice | Hip Foodie Mom
Vanilla Bundt Cake with Caramel Glaze by Lora | Cake Duchess
Now don't forget to check out what the other Improvers made with their sweet potatoes and honey!